The designer childrenswear market is thriving even as parents count pennies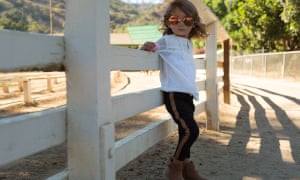 To the serious fashionista, they are some of this summer's most coveted items: a Carretto Con Rose silk embroidered dress by Dolce & Gabbana, a Gucci peacock feather jacquard coat and a pastel-hued Chloé silk crêpe boho dress with tassel trims are all top of the wishlist for those with an eye on trends. At £2,400, £1,340 and £419 respectively, this capsule wardrobe of seasonal must-haves doesn't come cheap. And demand for these high-ticket garments is all the more astonishing because they are scaled-down versions of catwalk pieces, designed for style-conscious children.
Childrenswear is booming: in 2015 sales reached $135.6bn worldwide and accounted for 12% of the overall clothing market, according to research firm Euromonitor. For the past five years, growth in the childrenswear market has outpaced both men's and womenswear. The childrenswear market in the UK is forecast to rise a further 13.2% in the next five years, to £6.1bn.
In the designer market, online retailer childrensalon.com is leading the way: their customers can't get enough of Gucci, D&G and Chloé, plus Roberto Cavalli, Moncler, Fendi, Versace and more. A boy's Burberry wool tuxedo suit with satin lapels (£745) aims to bring out the 007 in any seven-year-old.
The business was founded in 1952 as a small upmarket children's boutique in Tunbridge Wells, Kent, and has grown into the world's largest online luxury childrenswear store. Selling more than 280 designer brands, and employing almost as many staff at its head office and six warehouses, childrensalon.com sells around 800,000 items a year to 110 countries. Little clothes are clearly big business, and getting bigger. Revenue at this family-owned business rose by an impressive 51% to £42.7m in 2015.
It's no surprising, then, that everyone from luxury brands to aspirational start-ups and mass retailers want a piece of the action. Following a proliferation of childrenswear launches from the fashion houses of Milan, Paris, London and New York, Net-a-Porter confirmed in 2013 that it had registered the domain name Petite-à-Porter, and online designer boutique hub FarFetch launched a childrenswear division last year.
"I realised how much mums enjoy buying dresses for their daughters," said London designer Roksanda Ilincic, mother to six-year-old Efimia. Ilincic counts Cate Blanchett, Melania Trump, the Duchess of Cambridge and Samantha Cameron among her grown-up clientele, and launched her Blossom junior range in 2012. "It's a different perception buying for your daughter – you would indulge her much more than you would yourself."